Where the Wild Things Are
This project represents an innovative change in approach to the management of and public engagement with some of Powys' most underappreciated wildlife spaces; Local Wildlife Sites (LWS).
From mystical ancient woodlands to quiet churchyards and bustling flower-rich roadsides; and from field-bordering hedgerows to tiny copses the UK enjoys special, often unnoticed wild places where nature thrives. Whether they are in the depths of the countryside or nestled in busy towns and cities, Local Wildlife Sites are the most important places for nature, outside of protected areas such as Sites of Special Scientific Interest.
Powys' Local Wildlife Sites (LWS) are truly exceptional areas of land, vital for both wildlife and people. However, despite being part of the planning system, these sites and the services they provide to the local community (e.g. access, tourism, health and well-being) are under threat like never before.
This project aimed to tackle this threat by giving the people of Powys a reason to leave their living rooms and step into a whole new world "Where the Wild Things Are…" often just round the corner or down the street.
Working across Powys, Montgomeryshire Wildlife Trust, Radnorshire Wildlife Trust and Wildlife Trust of South & West Wales aimed to:
Overhaul the existing system by which Powys' LWS are assessed and selected to ensure that this process is easily workable and fully embedded within the planning system into the future
Build a legacy of supportive community ownership and engagement with LWS by providing people with volunteering opportunities which will improve their local area for the benefit of people and wildlife
Develop and implement LWS survey and sustainable land management methodologies suitable for landowners, farmers, and volunteers
Support enhanced access to existing and future LWS to ensure maximum health and well-being gains for local people
'Value' the role that the LWS network plays in the health and well-being of our social and ecological communities
What we achieved
3 pilot activities undertaken
239 participants supported
5 communities benefitting
For more details, see the final project report below
Where next for Powys' LWS
The Where the Wild Things Are project has now finished, but this is not the end of the road for Powys' LWS; actually it is just the beginning! This project has generated a great new momentum around LWS and we are already seeking funding to build on this. With new selection criteria in place, we will be seeking to select more sites, providing a much clearer picture of the quality of the countryside in Powys. We also want to work with many more people, to help each other to create a resilient ecological network across this wonderful part of Mid Wales, finally reversing the past declines in nature and improving the well-being of everyone.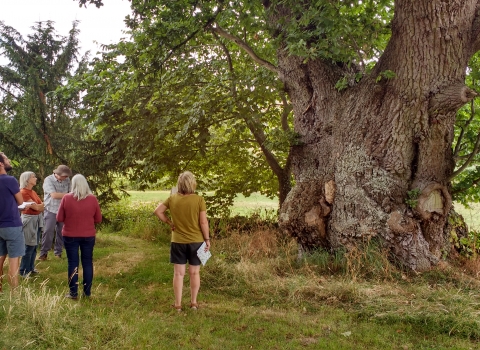 Are you a landowner/manager?
Do you love wildlife? Want to learn more about helping wildlife on land? Meet like-minded people in the Montgomeryshire landowner group. Contact Tammy for more information: tammy@montwt.co.uk