Who we are
Wild Skills Wild Spaces is delivered by Montgomeryshire Wildlife Trust, in partnership with Powys Teaching Health Board (PTHB) and is funded by the Welsh Government until 2023. The WSWS project is one of Wales 9 based projects coordinated by Welsh Government.
Wild Skills Wild Spaces aims to support and empower people and their communities to connect with local environments in order to learn new skills, build resilience, meet new people and improve their physical health and mental wellbeing while making a positive change for wildlife within their communities.
Time in nature is not leisure time; it's an essential investment for your health.

What we offer
The Wild Skills Wild Spaces project offers a single point of access for people to a range of well-developed and evidence based ecotherapy activities that are based in local green spaces and across some of the Wildlife Trusts nature reserves in Montgomeryshire. These sessions will help to manage a range of health and wellbeing issues, as well as generally promoting positive mental health benefits.
Who's it for?
This 12-week programme is ideal for individuals who may not normally engage in exercise or physical activity or who may be reluctant to engage with prescribed therapeutic interventions, but who may enjoy developing their potential through outdoor based experiences. Participants can enjoy new sessions every week, led by our small friendly team of trained staff.
All activities are free but do require a certain level of commitment to attend and engage with organised sessions, as well as an agreement to take part in a confidential evaluation process being carried out by Cardiff University, Centre for Health, Activity and wellbeing Research.
Participants are encouraged to engage at their own pace and are welcome to attend with a family member, caregiver, friend or key worker, particularly whilst familiarising themselves with the project.
Wild Skills Wild Spaces is a non-clinical service that may require medical disclosure but does not provide specific health interventions. Activities are aimed at supporting wildlife and helping you feel happier and healthier.
The effectiveness of the activities is in boosting an individual's resilience and recovery based upon the overall experience with the natural world, coupled with associated skills development and person-centred support.
These face to face sessions can help participants to take steps to improved health and wellbeing, meet new people, learn more about nature and the outdoors and enhance their CV.
How do I get someone involved?
If you think this could be for someone you know then please fill in a referral form. (PLEASE NOTE: We are only taking referrals from primary, secondary and third party care providers and not from the general public at this stage.)
Once we have received this one of our team will be in touch with the participant by phone or email so that they can find out more about the programme and signing up.  We will also keep your referral pathway updated throughout the process.
Referral pathways – Primary and Secondary Health care on to the 12-week programme
What is Ecotherapy?
Ecotherapy is the approach that WSWS takes to help people reconnect with nature in a gentle, participant-led way. Each WSWS session is different offering a range of activities relating to our five key Ecotherapy themes detailed below. These treatments reconnect people with nature and the environment in order to improve health and wellbeing.
Research has shown that such activities can reduce stress, anxiety and many low level mental health conditions whilst improving physical fitness, health and wellbeing.
12-week programme structure
Sessions are planned in line with the 5 themes of wellbeing you can familiarise with these key terms below. Activities and themes will vary session to session dependent on the season, weather and group, but will relate back to at least one of the five ways to wellbeing – Connect, BE, Active, Take notice, Learn and Give.
Ecotherapy Activities that relate to the five key themes:
Wildlife Walks

Spending time in nature can be very relaxing, providing time to reflect, unwind or kindle new friendships. Walking is also an excellent way to keep fit and active which has also been shown to improve a person's wellbeing. Whilst our walks might be more mindful activity we also include activities like forging and looking for wildlife.
Bushcraft

Learning new skills trying new things and sharing knowledge and experiences can be fantastic way improve your wellbeing. Activities might include fire lighting, wood working and making homes for nature.
Gardening projects

Not only benefiting wildlife and communities, gardening projects can also offer the opportunity to make new discoveries, learn new skills and relax. Activities also include cooking freshly picked fruit and vegetables over an open fire.
Practical Conservation

Encouraging people to keep active, learn new skills and make positive changes for wildlife and wild spaces. Practical conversation work can also benefit the wider community and help people to feel like more valued members of society. Activities might include balsam bashing, dead hedging and tree planting.
Mindful Environments

Taking time to step away from technology and be in the moment can do wonders for mental wellbeing. It can be as simple as taking a few deep breaths. We might do some mindful drawing or stop for a while and take notice of our surroundings.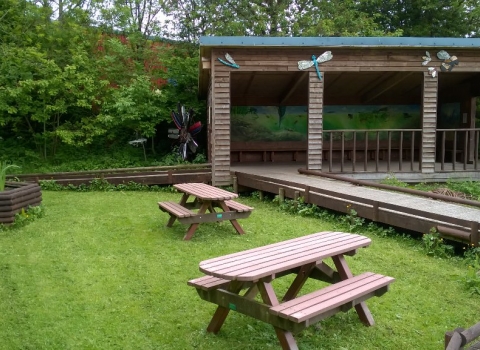 Where do these sessions take place?
The project sessions take place at one of our COVID-secure site/hubs in or around Welshpool and Newtown and last for at least two and a half hours and are led by a small team of trained staff.
Sessions will run from five of our reserves and a central space in Newtown with ad hoc sessions held across other green spaces locally, see a list of reserves below. We endeavour to meet the needs of all participants who attend.
Montgomeryshire Wildlife Trust Reserves:
Llyn Coed y Dinas in Welshpool
Other sites:
Cultivate Community Garden in Newtown.
Travel arrangements can be discussed following a referral onto the programme of delivery.
Participants who wish to attend are to be reminded that these sessions will take place in all weathers outdoors and therefore the need for suitable outdoor clothing is essential. This can be discussed with the participant after being referred into the programme.