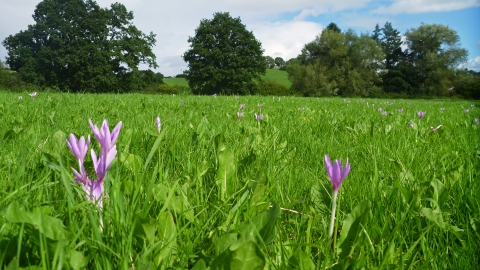 Llanmerewig Glebe Nature Reserve is now open, but please note that due to on-going anti-social behaviour, the gate is currently locked; the reserve can be accessed using a stile.
Know before you go
Entry fee
No
Walking trails
Flat & grassy ground
Access
Flat & grassy ground. Contact the Trust for disabled access information.
When to visit
Opening times
Open at all times
Best time to visit
June to September
About the reserve
Within this small reserve of just one hectare grows a highly poisonous, yet beautiful plant - Autumn Crocus (Colchicum autumnale), also known as Meadow Saffron or 'Naked Ladies'! For centuries this delicate flower has been systematically eradicated in grazing areas because of its danger to animals, yet is does have healing powers and has been used to treat gout. Here at Llanmerewig, the Autumn Crocus is thriving under traditional hay management, which makes the most of the land when no parts of the plant are showing. The sheer number of Autumn Crocus on this small site is so remarkable, it is mentioned in Richard Mabey's 'Flora Britannica'!
The flowering of the Autumn Crocus is dependent on the weather, but is in Autumn as the name suggests! Look for it between late August and early October.
Following this nature reserve on social media using #LlanmerewigGlebe
Habitat