Our insects are in trouble
In the UK, our insect populations have suffered drastic declines, which are set to have far-reaching consequences for both wildlife and people.
With as many as 87% of our plants, which includes a third of our food crops, pollinated by animals (the majority by insects), there is a lot to lose. Much of our wildlife, be it birds, bats, reptiles, amphibians, small mammals or fish, rely on insects for food. Without them, we risk the collapse of our natural world.
Published in November 2019 by an alliance of Wildlife Trusts, the Insect Declines and Why They Matter Report showed that we have lost of at least 50% of our insects since 1970 and the shocking reality that 41% of the Earth's remaining five million insect species are now 'threatened with extinction'.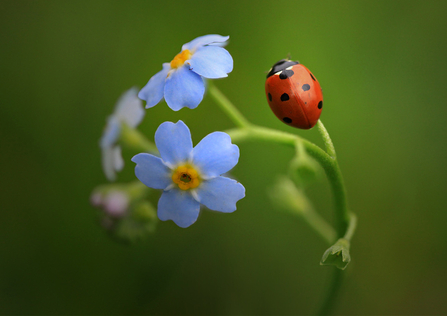 What can be done?
Whilst the news for insects is bleak, there remains much that can be done to bring about their recovery, but fast action is required.
To showcase what is needed, The Wildlife Trusts commissioned a second report published in July 2020, Reversing the Decline of Insects, which looked at case studies from around the UK that are working hard to bring back insects.
The good news is that we can all take meaningful actions to reverse the decline of insects and allow them to thrive once more. We all need to become insect champions, taking action at home and work, in our communities and schools.
What are we doing?
Since 1982, Montgomeryshire Wildlife Trust has been dedicated to the conservation of wildlife and wild places throughout this special, often unnoticed part of mid Wales. We carefully manage our own land and work with landowners elsewhere, to allow specific rare or threatened species, such as the Pearl-bordered Fritillary butterfly, to thrive, whilst also encouraging diversity, to provide food and shelter for as many insects as possible. On a much bigger scale, we seek every opportunity to change hearts and minds, empowering others to take action. We think big and take an evidence-based approach, delivering over large areas and working with a range of partners.
Read more about our work
More actions for insects