Help with an injured or grounded bat
Any bat that is found on the ground, or in an exposed area, especially during the day, is likely to need help. Call the National Bat Helpline on 0345 1300 228 for further advice.
If your bat is likely to be taken in to care, it will need to be contained. It is important that you don't handle the bat with your bare hands; follow this advice from the Bat Conservation Trust: 'How to contain a bat'.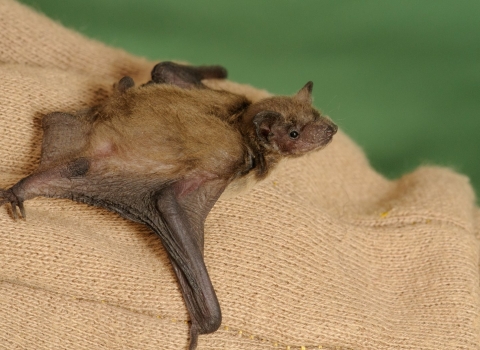 Baby bats
All UK bats are small; you may be surprised at just how small! Baby bats are found in June, July or early August, are very small and have greyish fur. When they are less than a week old they will have no fur at all. At all other times of the year, the bats you see will be fully-grown and independent.
If you've found a baby bat you must get expert help as quickly as possible. There may be a bat rehabilitator near you who can assist. Call the National Bat Helpline to find out.
In the meantime the bat should be contained.
What to do with a bat flying inside the house
NEVER try and catch a bat in flight as you could injure or even kill it. The best thing to do when a bat is flying around inside the house, is to open all external windows, turn off the lights and leave the room, shutting the internal door behind you. Bats navigate in the dark using echolocation, so they should find their own way out.
If the bat lands, contain the bat and release it outside.
Helping bats in your garden
Montgomeryshire bat species
Bats are fascinating animals – the only true flying mammal. There are over 1,300 species of bats in the world, and more are still being discovered. Bats account for more than a quarter of mammal species in the UK and around 20% of all mammal species worldwide.
There are 18 species of bat in the UK and 11 of these have been found in Montgomeryshire. Explore some of these below.