Rare Bittern back at Welshpool nature reserve
Elusive and rare, the Bittern is on the wish list for many a wildlife enthusiast. Yet, despite their large size, they are very hard to spot. So, the presence of one of these heron-like birds a few metres outside the bird hide at Llyn Coed y Dinas Nature Reserve is very special indeed.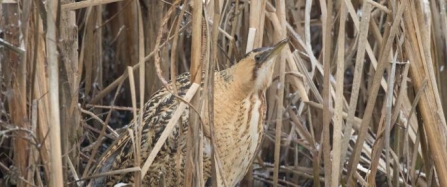 UK population: 600 birds (winter)
Just outside Welshpool, Llyn Coed y Dinas is one of Montgomeryshire Wildlife Trust's most visited nature reserves; the great variety of birds it attracts is a real draw for the human visitors. Two years ago, the site welcomed a real wildlife celebrity; a female Bittern which spent over three weeks there.
Fast forward to Sunday 22nd January 2017, when a Bittern appears once again in the reeds in front of the hide at Llyn Coed y Dinas. The bird then explored what the lake had to offer, sometimes completely out in the open, before once again returning to the reeds.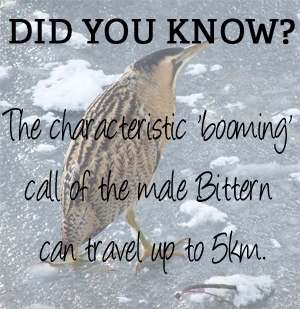 This recent visit leads us to wonder... where has it come from? Will it stay? Is it the same bird as two years ago? Will Bitterns ever stay to breed on the reserve? We are not likely to get answers to most of these questions any time soon, but one thing seems certain - our work to make Llyn Coed y Dinas a special place for wildlife is working. You can help us continue this work by donating or joining us.
To see or report the latest sightings at Llyn Coed y Dinas Nature, use #LlynCoedyDinas on Twitter.