New meadow creation underway in Montgomeryshire
Work begins at Hurdley Meadows to create a new Coronation Meadow for Montgomeryshire

"The sixtieth anniversary of The Queen's Coronation; what better excuse for a concerted effort to begin the creation of at least one meadow in each county?"
In June 2013, HRH The Prince of Wales launched the Coronation Meadows project at his home in Highgrove. His vision was to see a flagship ancient wildflower meadow identified in every county to mark the anniversary of The Queen's Coronation. Over the last 3 years, this remarkable project has done just that and there are now 88 Coronation Meadows across the UK. These jewels in the crown are places where people can enjoy a riot of colour and an abundance of wildlife in a setting that has remained largely unchanged since the Coronation.
But this incredible conservation effort doesn't stop here. In order to realise Prince Charles' vision to create new wildflower meadows, seed is now being collected from these special Coronation Meadows and used to create meadows across the UK, leaving a legacy for the next 60 years. So far, 66 new meadows (totalling 575 acres) have been created since the project began. The new Montgomeryshire meadow being created now is an exciting step towards the goal of 90 meadows to be created by the end of 2016.
What is a Coronation Meadow?
Once the colourful mantle of our green and pleasant land, over 97% of wildflower meadows have been lost in the last 75 years. Coronation Meadows are rare, surviving fragments of these flower-rich grasslands. Over 80% of the meadows can trace an undisturbed history back to before the 2nd World War and many boast quite astonishing displays of wild flowers – orchids, cowslips, buttercups and oxeye daisies in their thousands – as well as all the other wildlife they support. Montgomeryshire's Coronation Meadow – Ty Brith - is owned by Montgomeryshire Wildlife Trust and is special because it has never been agriculturally improved, so supports a great diversity of plants and animals, including five species of orchid.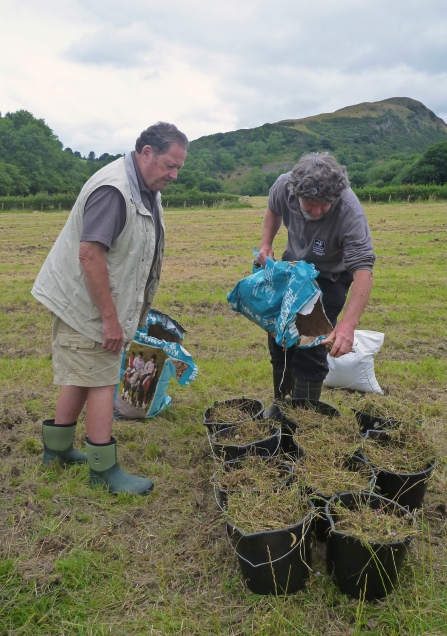 Montgomeryshire's new meadow, which is being created using seed harvested from Ty Brith, is adjacent to another Montgomeryshire Wildlife Trust nature reserve, Roundton Hill. The meadow seed was broadcasted by hand at Hurdley Meadows by Trust volunteers on 26th July 2016. The outcome of this work will be carefully monitored over the coming years by the site owners. It is hoped that this currently species-poor grassland will soon be as colourful as the donor!
The Coronation Meadows Partnership comprises Plantlife, The Wildlife Trusts and the Rare Breeds Survival Trust. HRH The Prince of Wales is Patron of all three charities. This project is supported by a grant of £1 million from Biffa Award as part of the Landfill Communities Fund, and a grant from Natural Resources Wales for work in Wales.