Climate & Ecological Emergency - what we are doing
Climate change is causing great stress to Montgomeryshire's wildlife. MWT is, and always has been working on the ground to protect and restore nature. Addressing climate change is a key component in this and restoring nature helps to reduce the impacts of climate change too.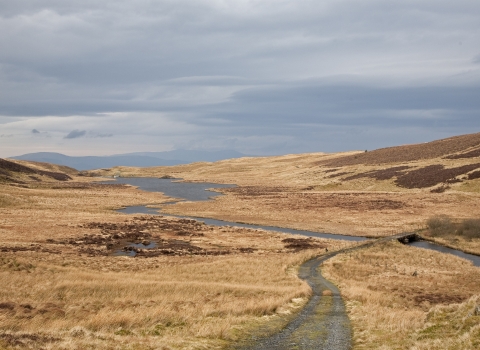 Pumlumon Project
For over ten years, the Pumlumon Project has been working on a landscape-scale to tackle the climate & ecological challenges of the modern world. By working with the local community, we have been able to store carbon & flood water, as well as reconnecting & recreating habitats and bringing back wildlife,
Find out more
Of course, Pumlumon is not the only place where we have been managing, restoring & creating natural habitats. We have 18 nature reserves and work with a large number of private landowners, organisations and public bodies on hundreds of hectares of additional land. Only by working together can we hope to create a Nature Recovery Network to benefit us all.
You can read more about some of this work by clicking on the links below.
Addressing our own footprint
From travel and running the Welshpool office and Dyfi Wildlife Centre, to powering our operations and even our conservation work, we recognise that our activities can have an impact on the climate crisis. We are constantly seeking ways to reduce our footprint; our ambition is to become carbon neutral – or even carbon negative. Every aspect of our new visitor centre at Cors Dyfi has been planned to ensure that, instead of producing carbon, the centre will remove carbon from the atmosphere. It is built with timber and reclaimed/recycled materials and energy is produced by means of a large solar array and ground-source heat pump, so it will export power to the grid.