A pioneering, science-based project to revive the ecology and economy of the Welsh uplands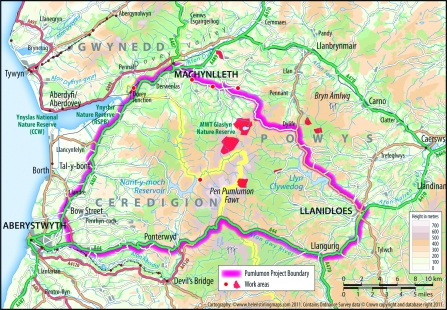 Named after Pumlumon mountain (centre), the project area is the size of Birmingham and includes the sources of the rivers Severn, Wye and Rheidol. We've tested our science and methods in our pilot areas (red). We now need the resources to extend ecological land management across the entire area. Success would reduce the effects of flooding on huge numbers of farms, homes and businesses, transform the local economy, safeguard vast stores of carbon, and bring back vanished wildlife.
Restoring the source of the Severn isn't just about returning lost wildlife. It's about rebuilding local economies and living more sustainably. Finding a better way for people and nature to get along, hundreds of years into the future.
Imagine finding a whole new way of living in harmony with nature...
A way that gives us more of the things we need - viable local economies, beautiful landscapes, abundant wildlife, clean water, carbon storage; and less of the things we don't - urban flooding, species decline, soil erosion, faltering rural businesses.
Established in 2007, the Pumlumon Project is a radical rethink of how the landscapes of upland Britain could work. Across 40,000 hectares of the Cambrian Mountains, we're pioneering an upland economy built around wildlife, ecology and long-term sustainability.
Our method is simple: if we can help local farmers, foresters and tourism businesses to do things a little differently, then over time the whole landscape comes back to life. And once that happens, the benefits extend far outside the project area.
Within five years we'd demonstrated, using good science and economic analysis, how large-scale ecological restoration can bring economic, social and environmental benefits. But it will take a huge shift in public attitudes and expectations - and new funding - before these new ideas are firmly established.
WE'RE IN THE PROCESS OF UPDATING THE PUMLUMON PROJECT PAGES ON OUR NEW WEBSITE. CHECK BACK SOON TO FIND OUT MORE!
The project offers a better way to manage uplands, centred on creating a web of positive outcomes for wildlife and people