Want to bring a group to one of our nature reserves? Want us to come to you? Looking for wildlife educational resources? You've come to the right place!
We can offer a wide range of engaging wildlife-focused activities for your school or community group. We can work with you on your own land, at one of our nature reserves or via specialist events. Work with us to develop bespoke sessions, or you can pick from our menu of activities, to best suit the needs of your group. All school activities are linked with the national curriculum.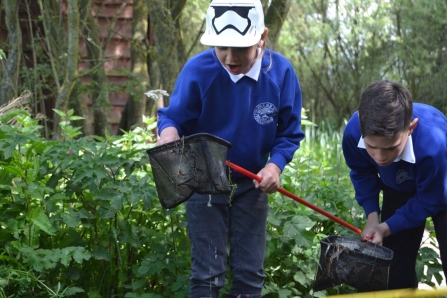 Any organised groups wishing to visit a reserve need to fill in a Group Visit Form one month in advance of their visit. You can choose to have a self-guided tour or you can request for a member of our team to join you.
By booking in advance we can make sure that other groups aren't visiting at the same time and that management work won't disrupt your visit. It is also a valuable record of educational use of the reserves. You can download our Group Visit Form as an editable Word document below. Advice on health & safety and suitable clothing will be given for any activity that is booked.
What do we offer?
Our approach

Our sessions are planned with the needs of your group in mind, involving a range of engaging, hands-on activities or games to suit all learning styles. Every session aims to encourage enquiry, creativity and teamwork as well as delivering subject-specific learning outcomes.
Visits to nature reserves

Group visits to nature reserves allow people a chance to see the wildlife on their doorstep, learn in a new way and have the chance to find their 'Wild Life'. From pond-dipping and mini-beast hunting, through to transect and quadrat sampling and guided walks, we cover a range of ages.

All our school activities can be linked to the curriculum and tailor-made to suit the needs of your school, so the options are endless!
We can come to you!

For those unable to benefit from a visit to our nature reserves, Montgomeryshire Wildlife Trust can come to you. We can also offer a selection of site-based workshops where we can bring environmental education sessions to the classroom or your own private grounds. Whether you're a school or youth group looking to engage your children more outside, or an organisation looking for a speaker, we have something for everyone!
A typical school day

Schools typically choose one of our half-day sessions, with a normal day running from 10:00-14:15, including a break for your packed lunch. Contact us to find out more about our sessions and prices.
Educational resources

Take a look at the Wildlife Watch website for educational resources including amazing animal facts, fun wildlife activities and tonnes of ideas to help inspire your class.
Need help?
For more information on our curriculum linked programmes and to discuss activities that can be tailored to your needs, please contact us.