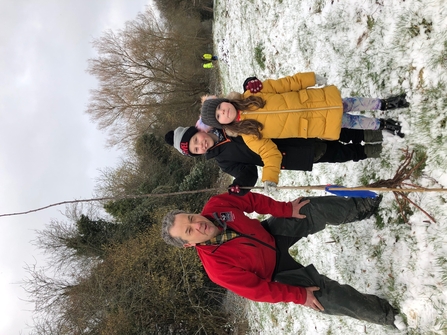 MWT has seconded a member of staff to help manage Newtown's parks and open spaces for wildlife and people, as part of the Open Newtown project. Dewi Morris is Open Newtown's Countryside Ranger.
Open Newtown's parks and greenspace are important for the local community, offering many benefits.
These are spaces where people can relax, contemplate and enjoy nature, as well as places to play, exercise and walk four legged friends. Public greenspaces improve health and wellbeing, physically and mentally, and offer a safe haven in the urban environment. When managed sympathetically, greenspaces can provide areas where nature can thrive, a place for animals to call home. Dewi's responsibilities are to make sure that these habitats are well managed, with the help of the MWT team and local people, increasing the diversity of wildlife in the town.
Dewi works with contractors and members of the local community throughout the year to try and ensure the town's parks and greenspace are safe for wildlife and people to enjoy. Open Newtown are committed to provide a better cleaner, safer, greener environment and quality of life for the residents of Newtown.
Open Newtown looks after 130 hectares of open space, which equates to 30% of Newtown mainly either side of the River Severn. With MWTs help Newtown will be a place for wildlife and people to thrive - Where the Severn Smiles.