No let-up in loss of Wales' nature
Nature in Wales and the UK is in serious trouble. The new #StateofNature report was launched on 3 October and presents the facts about wildlife decline.
Wales' wildlife continues to decline according to the State of Nature 2019 report, with the latest findings showing that one in six species are at risk of extinction. Since rigorous scientific monitoring began in the 1970s, there's been a 13% decline in average abundance across wildlife studied across the UK.
Following the State of Nature reports in 2013 and 2016, leading professionals from over 70 wildlife organisations in the UK have joined with government agencies for the first time, to present the clearest picture to date of the status of our species across land and seas.
Iconic species like red squirrels and water voles, which were once widespread in Wales, are now restricted to a few sites and under real threat of extinction.
The State of Nature 2019 report reveals that of the 3,902 species assessed in Wales, 73 have been lost from Wales already, with birds like turtle doves and corn buntings now gone from Wales' skies. A further 666 species are threatened with extinction in Wales.
Daniel Hayhow, lead author on the report, said: "We know more about the UK's wildlife than any other country on the planet, and what it is telling us should make us sit up and listen. We need to respond more urgently across the board if we are to put nature back where it belongs. Governments and their agencies, businesses, conservation groups and individuals must continue to work together to help restore our land and sea for wildlife and people in a way that is both ambitious and inspiring for future generations."
Nikki Williams, Director of Campaigns and Policy at The Wildlife Trusts, said "Nature is in big trouble but we know how to bring it back. Local action is already making a real difference and now the government needs to play its part. We need a Nature Recovery Network established in law – one that is locally developed and nationally connected – this would help join up our last remaining wild places by creating vital new habitats. It's time to make nature a normal part of childhood again and restore wildlife so it can recover and thrive across urban jungles and the countryside once more – where it can be part of people's daily lives."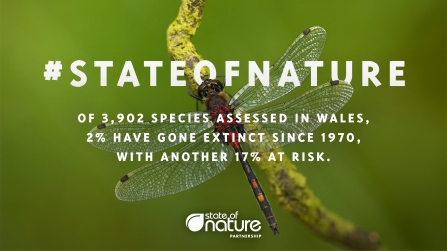 The report has a foreword by a collective of young conservationists who are passionate about conservation and the future of our wildlife and nature to preserve it for future generations.
Dan Rouse, a young conservationist said, "Nature is something that shaped my childhood, that allowed me to be free to use my sense of wonder, and to gain an insight into the wonderful world of nature! It's young people that are now picking up the baton to save our nature - we've already lost Corn Buntings and Nightingales in Wales - how long until they're gone from the rest of the UK? Along with the eerie calls of curlew and the gentle purr of the turtle doves."
For a full copy of the State of Nature 2019 report and to find out how you can do your bit to save UK wildlife – www.nbn.org.uk/stateofnature2019
Tell your Assembly Members
Everything works better when it's connected.
We need a Nature Recovery Network to bring our wildlife back.
We urge you to contact your AM and MP and add your voice to the growing calls for change.